World Music Day: Meet the singer who was so impressed with Royal Star & Garter she decided to join the veterans' charity
When Jodie Halls walked into Royal Star & Garter to perform to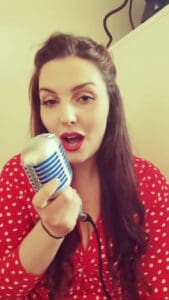 residents
last year, the singer had no idea the impact it would have on her life.
She was so impressed with the love and warmth she encountered that within months Jodie had joined the charity as a Health Care Assistant.
Here she speaks about first impressions, the joy she gets from singing, the joy she gets from caring, and how she combines the two.
"Music has been a big part of my life, I've always loved singing. From the age of six I went to theatre school, and I went on to study musical theatre at college and university.
Since May 2019, I've been singing in care homes. I love songs from the 1940s and 50s, and I love artists like Doris Day and Frank Sinatra. I really like Country too, Dolly Parton is amazing, and Eva Cassidy is my absolute favourite. I like a lot of the songs and singers that residents in care homes like too.
I really love singing in care homes. The residents really appreciate the song and the singer. Especially those with dementia. When they sing along with me – Oh my gosh – it's amazing. I walk away feeling like I have done something really, really rewarding.
You can bring a lot through music. It can bring happiness and a lot of joy and that's lovely. Some songs can bring memories back that someone has not thought about for a long time or forgotten. Songs like Danny Boy can stir some sad emotions and memories, but it's important to address these.
In September last year, I was asked to sing at Royal Star & Garter in Surbiton, on Lister (the dementia care area), and I loved it from the minute I walked through the door. Everyone was so nice, and there was a really warm feeling. I used to teach singing at a summer camp in America, and the feeling in the Home reminded me of that because everyone was so happy and positive.
A short while later I was searching online for jobs and I saw that Royal Star & Garter were looking for carers. I'd never thought about being a carer, and I had no experience. But my granddad had been ill at around time I sang in Surbiton and I'd been helping my nan look after him. And I thought instead of just being a singer, perhaps I could be a singer and a carer. I thought it was a sign, so I applied for the job and I got it!
I started in January (2020) and I love working here. There's not a day that I wake up and think 'Oh my God I have to go to work'. I like the staff, they're so nice and make you feel important. And I absolutely love the residents. It's such a rewarding job. I always walk away at the end of a shift with the same feeling I get when I connect with residents I'm singing for. I feel like I have done something good!
And I love combining the singing with being a carer. I often sing to the residents when I'm caring for them in the Home. There's one resident who enjoys jazz and I enjoy singing Sinatra, and he loves it when I start singing to him. He knows the words and joins in, and it's so lovely to share that moment with him. It's pure joy.
I hope in the future that I can put on a proper show for the residents. I'd love to do that!"