Miss Christine Gertrude Letcher
1919 - 16 December 2016
Christine joined the WAAFs  and was sent to do her training. She remembers a grim time in Aberdeen, and it being so cold her flannel was stiff with ice in the morning. She remembers parading and marching and she learnt Morse code.
Chris was then sent to serve in Bletchley Park for the duration of the war, working in a hut that had the specific task of taking coded messages from the battle front during the Italian Campaign. She did not have very happy memories of this time, there was little social life and she was only too glad to get a pass and hitch a lift from anyone leaving the site to go home!
All workers at Bletchley were sworn to secrecy and Chris obeyed this advice to the extent that she hid her war medals and it was only much later when the secrecy was lifted that Chris revealed what she had done in the war.
After the War Chris determined to become an Occupational Therapist, an important profession in a time where many wounded war veterans needed retraining into different jobs or simply to learn to cope with disfigurements and disabilities that complicated activities of living. She trained at the School of Occupational Therapy in Oxford and one of her first jobs was with Archibald Macindoe the famous plastic surgeon working in East Grinsted.
Chris embarked on a long career as an occupational therapist working in a variety of General and Psychiatric Hospitals until her retirement at the age of 60 years. After which she devoted herself to village life and a succession of much loved dogs.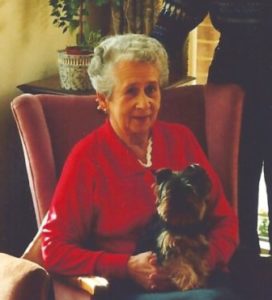 ~ Christine Flannery